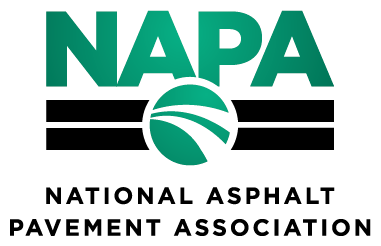 Agenda - July 15
Welcome Back Remarks and Leveraging Asphalt's Advantage
12:00pm - 1:15pm EDT
Welcome Back Remarks by NAPA Leadership
Overview
---
Concluding Remarks by NAPA Leadership
Speakers
---
Jay Winford, Ph.D., P.E.
President
Prairie Contractors Inc. (2020 NAPA Chairman)
Audrey Copeland, Ph.D., P.E.
President & CEO
National Asphalt Pavement Association
Leveraging Asphalt's Advantage
Overview
---
Asphalt pavements are quick to construct, but this traditional wisdom has rarely been quantified — until recently. Smart businesses are differentiating themselves from the competition by using asphalt's innate speed of construction to win bids. Learn from researchers about their efforts to quantify speed of construction, and discover a tool that can quantify user costs and local business impacts. Then learn from a contractor on how asphalt's speed of construction was a winning component to their bid. Attendees will learn how to differentiate themselves from the competition.
Sponsored by:
Speakers
---
Patrick Nelson (Moderator)
President & CEO
Lehman-Roberts Co.
Matt Wilson
Business Development Manager
Barriere Construction Co., L.L.C.
David E. Newcomb, P.E., Ph.D.
Division Head, Materials & Pavements
Texas A&M Transportation Institute
Jeff LaMondia Ph.D.
Associate Professor
Auburn University
Visit the Exhibit Hall
1:15pm - 1:30pm EDT
Women of Asphalt: Shifting the Paradigm for Retention and Recruitment
1:30pm - 2:30pm EDT
View Session
Overview
---
Women encompass less than 10% of the asphalt industry's workforce. The mission of the Women of Asphalt Inc. is to lead and inspire through retaining and recruiting women into the asphalt industry. They have developed programs inspired by women for women. In this session, you will hear Women of Asphalt members discuss the programs they have crafted and the reasons these programs are making a difference in the industry. Attendees will have the opportunity to learn ways to become involved in the organization and share program opportunities within their own organization.

Sponsored by:

Speakers
---
Amy Miller P.E. (Moderator)
National Director
Asphalt Pavement Alliance
Natasha Ozybko
Regional Sales Manager
Arkema-Road Science
Kirsten Pauley P.E.
Executive Director
Asphalt Pavement Association of Indiana
Terri Helus
Director of Customer Implementation
HeadLight
Kari Shiflett
Director of Human Resources
Lakeside Industries
Visit the Exhibit Hall
2:30pm - 3:00pm EDT
Living in a Virtual World: The Next Steps in Training and Certifications and Wednesday Key Takeaways/Closing Remarks
3:00pm - 4:15pm EDT
Living in a Virtual World: The Next Steps in Training and Certifications
Overview
While adjusting business practices to continue to build and maintain our nation's infrastructure during the pandemic, member companies have gained a new perspective on staff communications and the tools needed to keep business moving. During this roundtable discussion, we will hear perspectives on developing a virtual certification program, preparing for a virtual assessment, and the experiences these new virtual programs are providing. The speakers will share what they have learned over these last several months and discuss what they believe will be the new normal coming out of the pandemic. The roundtable will include perspectives from a producer, a state association, and an accreditation body on the virtual programs that were deployed to address certification and accreditation needs during the pandemic. Prepare for which changes are likely to be incorporated into normal business practice post-COVID.

Speakers
---
Tanya Nash, P.E. (Moderator)
Pavement Materials Engineer
Asphalt Testing Solutions & Engineering
Michael C. Dudley
Director
Virginia Asphalt Pavement Association
Sonya Puterbaugh
Assistant Program Manager
AASHTO
Bill Schmitz
VP, QC and Sales
Gernatt Asphalt Products, Inc.
Wednesday Key Takeaways/Closing Remarks
Speakers
---
Jay Winford, Ph.D., P.E.
President
Prairie Contractors Inc. (2020 NAPA Chairman)
Audrey Copeland, Ph.D., P.E.
President & CEO
National Asphalt Pavement Association
| Access Date | Quiz Result | Score | Actions |
| --- | --- | --- | --- |
Use Chrome, Firefox, Edge or Safari when using this site. Do not use Internet Explorer 11, this browser is old and will cause you issues when trying to log in or register.