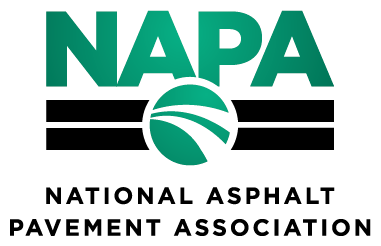 Responding to Health & Safety Challenges from Novel Hazards: Coronavirus followed by Day One Key Takeaways
>Under any business condition faced by the asphalt industry, safety is always a top priority. Over the last few months, road construction companies have taken swift and unprecedented action to protect their employees from a novel hazard, COVID-19. Not unlike protecting employees from new chemical or physical hazards on the jobsite, ensuring employee protection from coronavirus has been an ongoing process, especially since government-specific requirements lag. Since the asphalt pavement industry encompasses a wide variety of job tasks and workplace constraints – including working outdoors, in small shops, trailers, or offices, and potentially interacting with internal and external personnel in close quarters – consistent, standardized protocols to prevent workplace transmission of coronavirus continue to be fine-tuned. Further, new information and government agency recommendations evolve. Hear from NAPA Member health and safety professionals about the actions their companies took to quickly ensure employee safety and well-being during the pandemic. The moderated roundtable will highlight three topics, each led by a different health and safety professional. Attendees can ask questions and share their own protocols to protect employees against coronavirus, road construction activity-specific best practices, and asphalt plant activity-specific best practices.
Craig Parker
President, Silver Star Construction
Craig Parker is President of Silver Star Construction in Moore OK. Silver Star is an Employee owned company with over 250 employee's and does asphalt & concrete paving, soil stabilization, drainage, small bridges, mass dirt work, and is the Municipal Street department for 2 cities. Craig joined the Air National Guard in 1975 and ran a land development company from 1976 - 1989. Joined a paving company and ran their estimating department from 1989 – 1992. In 1992 his Steve Shawn invited Craig to become a partner in Silver Star and start their paving operation and install their 1st asphalt plant.
Craig is the past Chairman of the National Asphalt Paving Association, past President of the Oklahoma Municipal Contractors Association, past President of the Oklahoma Asphalt paving association, past board member of the Oklahoma AGC Highway chapter, current Chairman of the State Asphalt Quality Improvement Task.
$i++ ?>
​Christopher Kirby
Director of Risk Management, Colas USA
Chris is responsible for improving safety, loss prevention, and environmental processes and results for Colas subsidiaries operating in the United States. The Colas Group is a decentralized worldwide network of vertically integrated infrastructure construction and maintenance companies. Chris is a Certified Construction Risk and Insurance Specialist and holds American Road and Transportation Builders Association's Safety Certification for Transportation Project Professionals. He joined the Colas Group in 2000 after working in the hazardous waste site remediation and environmental consulting business.
$i++ ?>
Mike O'Neil
Risk Management Director , Lakeside Industries
Mike O'Neil has worked in the Asphalt Production and Paving industry since 1984, all with Lakeside Industries. In 1988, he graduated from the Safety and Health Program at Central Washington University with a BS in Loss Control Management and returned to Lakeside as part of the Safety Department. As the Safety Director at Lakeside for over 25 years he helped manage the safety program at Lakeside as well as managing the Casualty Loss Claims for the company. In Mike's current role as the Risk Management Director he leads a team to promote workplace safety and has worked with the companies Crisis Team in their pandemic response.
$i++ ?>
Scott M. Seamon (Moderator)
Safety Manager, Ace-Saginaw Paving Co.
Scott Seamon is the Safety Manager for Ace-Saginaw Paving Co., an Edw. C. Levy Company. Scott oversees the Safety and Health for five hot mix asphalt plants, eight paving crews, and two mobile equipment shops. Scott works with the Edw. C. Levy Corporate EHS Managers Group that is comprised of EHS managers working with locations in eight U.S. States and seven countries. Since 2004 Scott has worked to eliminate unsafe working conditions and influence a positive safety culture within Ace-Saginaw Paving Co. Scott values a quality of life and encourages others to work and live safely so that they can enjoy life outside of busy work schedules and deadlines. This encouragement comes from focusing on employee engagement, risk assessments, training and education, positive attitudes, and good communication. Scott is happily married to his wife, Melissa, and together they enjoy working on the family sharecrop farm, riding the Harley, antique tractors and camping.
$i++ ?>
Audrey Copeland, Ph.D., P.E. (Moderator)
President & CEO, National Asphalt Pavement Association
Audrey Copeland is the President & CEO of the National Asphalt Pavement Association, the trade association that exclusively represents the interest of asphalt mixture producers and paving companies at the national level. Located just outside Washington, D.C., Audrey leads a staff of 22 persons dedicated to supporting, advocating for, and advancing the asphalt industry. Previously, Audrey served as NAPA's Vice President of Engineering, Research, and Technology. She began her career as a highway engineer and researcher at the Federal Highway Administration (FHWA).
Audrey is the current Past President of the Association of Asphalt Paving Technologists, the premier organization for asphalt technology research with about 800 members. Audrey is also a founding member of the Women of Asphalt Council, to encourage more women to consider a career in the asphalt industry.
Audrey earned a PhD in Civil Engineering from Vanderbilt University and Master and Bachelor of Science degrees in Civil & Environmental Engineering from Tennessee Technological University. She is a registered engineer in the Commonwealth of Virginia and the State of Maryland.
$i++ ?>
James M. Winford, Jr., Ph.D., P.E., M.B.A. (Moderator)
Chairman, National Asphalt Pavement Association
Jay Winford graduated from Tulane University with a Bachelor of Science in Civil Engineering, a Master of Science and a Masters of Business of Administration. In 1991, Jay earned a Doctor of Philosophy from Auburn University while associated with the National Center for Asphalt Technology.
Jay has been associated with research and construction delegations to Japan, China, Eastern Europe, the Soviet Union and the Middle East.
Jay, a Fellow in the American Society of Civil Engineers, is twice past president of the Louisiana Asphalt Pavement Association. He is also chairman emeritus of the Board of Directors at the National Center for Asphalt Technology at Auburn University. Currently he is the 2020 Chairman of the National Asphalt Pavement Association. He resides in Opelousas, Louisiana with his wife Laura. They have two children: James (28) and Katherine (25), both of whom reside in New York City.
Jay is past chairman of the Louisiana Chapter of the Young Presidents' Organization. He is president of Prairie Contractors, a hot-mix asphalt producer and contractor with five operations in south central and south western Louisiana. He and partners also own and operate several large-scale rail facilities and real estate investments in south Louisiana. Jay is an alumni, twice, of the Harvard Business School.
$i++ ?>

Howard Marks
$i++ ?>
Key:

Complete

Next

Failed

Available

Locked